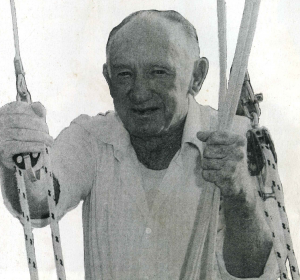 FLAP MARTINENGO
1916 TO 1986
RYC Committee Member 1963-1964.   RYC Life Member: 1977-1986
Born in Christchurch; 28th February 1916, Flap Martinengo had a "rare ability of making people feel good."  He was known as a yachtsman of the old school who sailed by the seat of his pants.  Flap was for a number of years, the Auckland Harbour Board's manager of the Westhaven boat harbour.  In that position he commanded respect for his knowledge of boats and the needs of people who sail for relaxation. In his early days, he built and repaired the centre board boats he sailed in St Marys Bay.
After the Second World War he gained recognition as top skipper in the mullet boat fleet at the helm of the 22 ft Tamariki, three times winning the Ponsonby Cruising Club's coveted Lipton Cup.  In one season, Flap entered Tamariki in 27 races, taking the gun 27 times for 25 wins on handicap, a second and a third.  "
He had the happy knack not common to everyone of getting that extra half degree sailing to windward while all the other yachts slipped down to leeward."
"My father, Flap Martinengo was the Custodian of Westhaven for 21 years; we lived where the Marina Office is now. I have seen lots of changes at Westhaven throughout the years.  Dad owned the Namu, the Young NZ37 which still racing successfully to this day"….. Toni Wood (Martinengo.)
The following article is taken from the Sea Spray, November 1986 which recounts many tales of Flap after he died in Auckland; 26th September 1986
"Being teetotallers to a man, we did not realize that the right thing to do was to shout the other competitors.  Instead we unpacked the champagne winnings and stowed them under the bunks.  This raised a few eyebrows and cast us in an unfavourable light.  A similar thing occurred at the prize giving when we proceeded to put the cash in our pockets and did not spread it around the bar.  This further increased our unpopularity but of this we were blissfully ignorant."….. Flap Martinengo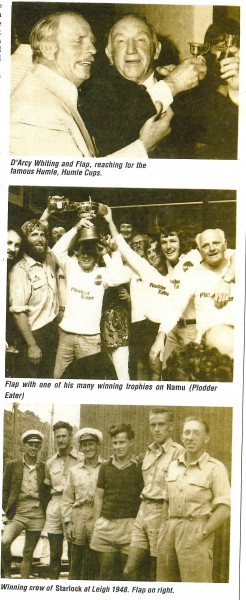 "Flap had that rare ability of making people feel good.  Although he had a reputation for being tight, he was really very generous.  When Namu was launched he couldn't afford the booze so he shouted tea and cakes to the crowd.  He wouldn't insure but carefully looked after his things instead.  When racing, he would never become involved with collisions just because he had right of way and could win by protest.  He kept clear and just beat them by cunning sailing.  I've seen him deliberately start arguments on subjects that he had thoroughly researched and knew the correct answers.  Once the atmosphere had heated and reputations were at stake, he'd bet a bottle on it.  Of course he was always right and he always won."….. Jim Young.
"Jim was meant to pick up Col Read in Notre Dame but Flap saw him waiting and said Jim wasn't coming and for Col to go on Namu instead.  Later when Jim went rushing by he saw Col with Flap and was furious.  During the race he sat on top of Namu giving him dirty air but cunning Flap told Col to shout out to Jim that he was very angry that he hadn't been picked up.  This of course broke Jim's concentration, which was exactly what Flap wanted and while Jim was justifying himself, Flap slipped away to win the race and a bottle from Jim as well."….. Ann Cummings.
"Flap's real name was Olaf Philip Martinengo and he was of Italian descent.  His grandfather was full Italian and he talked of a Count Martinengo which may have been him.  He got his nickname (he was called Flingo at school) when he was riding three up with his mates on a bicycle down Symonds Street when the forks broke and they all fell off, Flingo flying with his arms outstretched further than the rest; so they named him Flap after that.
He was great on nicknames himself, called me the Birkenhead Bandit, called John Lidgard's yacht Imp, Limp, Anticipation was Constipation, Fred Andrews the Tricky Plumber, John Lidgard he called Boris but John returned it by calling him Mucker Marty after he and Ann everdued Touche but forgot to add the hardener.  They only found out when they finished and wanted a smoke, read the instructions to see if it was safe and then realised their mistake.
"Flap, through winning so many races, built for himself a legendary reputation.  The writers of the day printed that Flap had mystical powers and other such nonsense.  But through years of commercial fishing and from sailing, he had an immense knowledge of the Gulf, however Cyril Hill who was once standing on Namu's foredeck watched in horror as rocks rushed by under the hull.  Because of Flap's reputation of Gulf waters, he decided to say nothing but then got immediately catapulted over the bow and into the sea when Namu's keel hit a rock and came to an abrupt halt."….. Jim Young.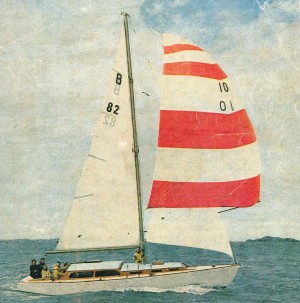 "He had a lot of pressure being custodian at Westhaven.  There was a certain amount of bribery involved in getting berths and people would bring gin to him under the table but he would get annoyed and he would give the bottles back.  He worked and claimed the responsibility brought on his heart attacks; it was an all hours job, but he enjoyed being there because of his friends and overseas sailors – they used to be able to stay at Westhaven in those days.  On the weekends after races it was very social.  People would rather come over to the custodian's place to drink and talk rather than go to the yacht club.  Of course anytime he lost to Jim Young, Beau Birdsall or D'Arcy Whiting, a crowd would come over to laugh and gloat.
At Christmas and the New Year we would always go to Kawau, Mum loved it there.  Dad used to do the handicapping but complained that he had to handicap himself out of the race otherwise the competition would loudly condemn him.  Last summer he brought a runabout called the Final Flight and once when we were out in it, Beau Birdsall sailed by on Pterodactyl;  Dad got down under the canopy so Beau wouldn't see him." ……Toni Martinengo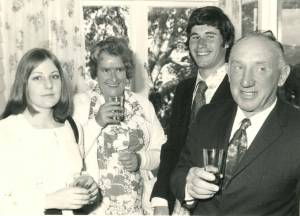 "He spent time preparing his boat and had an extremely good relationship with his crew, he explained everything about what was going on and kept everyone happy by telling anecdotes.  In this way he introduced a lot of people to yachting.  In his younger days he was a rabid socialist, very much of the left politically and this was especially so in the depression years.  He enjoyed beating the yachts of wealthy people, often much larger that Namu and he did this because of his knowledge of the harbour and the Gulf from those years fishing with his cousin Whist and working on the mooring gang of the Harbour Board."  ….. Beau Birdsall.
"He kept his boat light and although it still had the squabs in it, the interior was stripped of everything not essential to performance, I remember once he even had to go to another boat to get a kettle of water for a cup of tea.  When the rubbish boat, the Lorna, used to come into Westhaven we were all sitting aboard the beautifully built 34 foot yawl built by Abeking and Rasmusssen named Stoortebekker III.  The Lorna's skipper wanted to come alongside in his great rubbish boat; there was a bit of a sea running and we didn't let him.  He poured a torrent of abuse at us and this increased further when Whisk said "Why not go round the other side of the jetty?" Flap leaned out of the hatchway waiting for this to subside and then said in his loud voice so everyone could hear, what's the matter, you can't handle your boat?"…..Jim Young.
"When we were kids we had no money during the post-depression years and to rig a yacht was too expensive for us.  We were 18 years old and had push bikes, in fact in those years there was still a considerable amount of horse driven transport in Auckland and few cars.  Flap was the projectionist at the London Theatre (which later became the Oxford) opposite the GPO and he told me to come over after the film had finished at 10.30 that night.  When I arrived he said, "tomorrow is Dominion Day," to which I replied, "Oh Yes," and he said "Come on up to Albert Park."  I still hadn't figured out what he was on about but went up there with him.  When we arrived I soon realised for the flag staff with the crossed yard arm had been rigged with a number of manila halyards aptly suited for our yacht and a number of others too.  I stood on Flap's shoulders and cut them free with my pocket knife and we festooned ourselves and our bikes with a considerable distance of flag halyards and fled home.  Next day the Herald showed a photograph of the fire brigade with their high extension ladder and a fireman standing at the top reeving a complete set of new ones.  "Right," said Flap and we went up again that night and got coils of brand new manila rope this time, enough to keep all our mates sailing for years."….. Alec Stuart.
"I went yachting first in a 14 but we both worked in the same place in the London Theatre in 1934.  I didn't join forces with Flap until he got Tamariki.  Up until then I enjoyed myself on my own boat, he was the racing fiend. We won a lot of races on Tamariki, she was a good boat.  Then he got another 22 foot mulletty Lovelife but kept her for only a year.  Then we went fishing.  I was custodian at Westhaven then while he was on the Harbour Board in the mooring gang.  We bought a 38 foot mullet boat, cleaned it out and put a Lister motor in and started off fishing.  Not very well for a long time either.  It's a hard life and you have to learn how to fish.  But after six months we came right.  Up until then we didn't make wages.  After five years Flap got sick with poisoned hands so he gave it away but I stayed fishing for 10 years, longlining snapper in the Gulf mostly.
He had Nona, a little short ended keeler after that and then Patricia, a good boat and he did alright.  After that he got the Lidgard Touche and then Namu.  I occasionally sailed on Namu, racing on Sundays.  We never had any problems together; he was a good man on a boat.  After I gave up fishing I went on the mooring gang then moved up north to Waiharara in the Rangaunu Harbour.  It's a big square harbour like the Manukau with lots of sand banks and good fishing, flounder inside and scallops outside the entrance.  Beau Birdsall designed me a 22 foot trailer sailor called the Ultimate which I had up here but now I've sold it.".…. Whist Martinengo.
"Flap seemed to have a trick to sailing, never had any electronics, never even took notice of the speedo; he was like Lou Tercel and I'd put them on a par, both of them great in a boat.
He fished with Whist in Sunbeam from "51 to '55, fished in all weather, round the back of the Barrier and down to the Mercury Islands, coming back against hard westerlies to get the catch to the market by Thursday.
He took over being custodian at Westhaven after me and stayed there for 22 years.  He didn't have a boat for a while but finished of Touche in '62 after John Lidgard built her.  I was with him on the first sail and we dropped the mast in Rangitoto Channel.  He did very well with her but sold the Lidgard boat in '65.  Then Jim Young built Namu for him in '66 and that's when he consistently started to beat everyone, even boats 10 feet longer.
The first race in the B Class Championships he won by 29 minutes and there were some good boats racing then, Santana, Southern Star, Susan Jane, and Secret.  He kept Namu flying until '79 / '80 when she got too much for him and he sold her.   After that he got a launch for a couple of years but he still went away sailing and came with me every Christmas on Ricochet and on Brian Heron's Natasha and Stu Scott's Gunsmoke, some of the Patiki's also.  He was dead keen on boating right up to the end.
Once he did the White Island race with me in '53.  I get seasick but he was a tower of strength on the boat.  Never screamed or yelled, cooked all the food but we got 17 degrees off course on the way down and ended up miles inside White Island.  The rest of the fleet were way ahead so Flap was keen to go ashore at the island but I wanted to continue so we did.  In those days we finished at Whangaroa and we came in fourth.  We used to have some good arguments, I was Tory and he was Labour but it never got nasty.
While he was at Westhaven, he had a house at Northcote so when he finished, they shifted there but because there was no view, he sold the place and shifted to Princess Street for the last five years.  We helped them shift but I couldn't handle the motorway noise but strangely, never noticed it after that.  The view was right across the harbour and was a good thing for him.  He'd sit there with his binoculars checking it out"….. Cyril Hill.