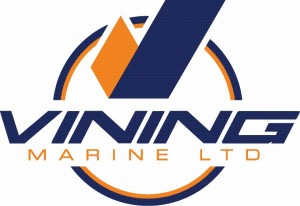 We are happy to present a new sponsor for the RYC Singlehanded Series – thanks to Vining Marine! We are working on the promotion package, so check back soon for more details, be sure to check in with Vining's new Westhaven Office to buy or sell your boat.
 EF | NOR | Attachment A – Declaration
Latest News – Finale and Series Prizegiving!
The final race in the 2016-17 Vinings Marine Singlehanded Series is the DYC Singlehanded Race on Saturday, 8th April. This is a race that usually turns out the wind and weather for a thrilling finish to the series!
This race is hosted by Devonport Yacht Club. Start is at 9.00AM with the course taking us around Rangi, Motutapu and Motuihe, all to starboard, before heading back to the start finish line off the DYC club house.  Details at the DYC Website including Courses.
PLEASE NOTE that the Vining's series entries have a 5.00PM cut-off for racing as we will be having our series prize giving at the Richmond Yacht Club, beginning at 6.30PM. The bar will be open and there will be pizza for the hungry.
We have some really exciting prizes this year, with the best of those being spot prizes. If you want to be in for a spot prize you will need to wear your Vining's Single Handed Series shirt and bring a picture of your boat showing your series logos. Photo will need to be on the notice board before the start of the lucky prize draw.
Schedule and Links
(note: this is a guide only, please contact host clubs for the latest race information)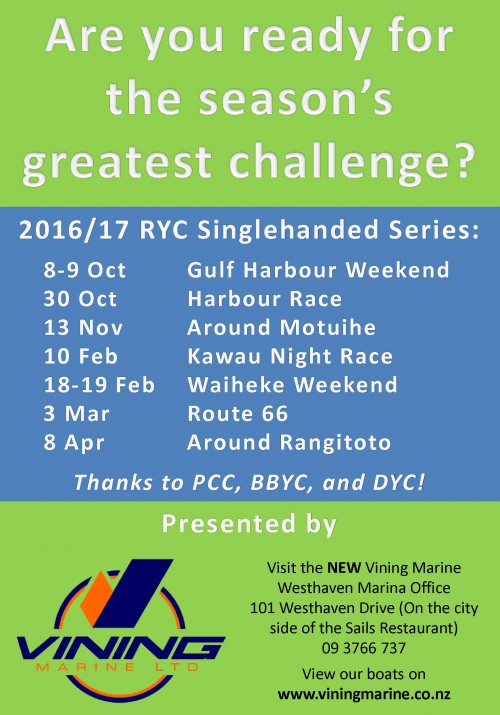 Previous Series Archives: